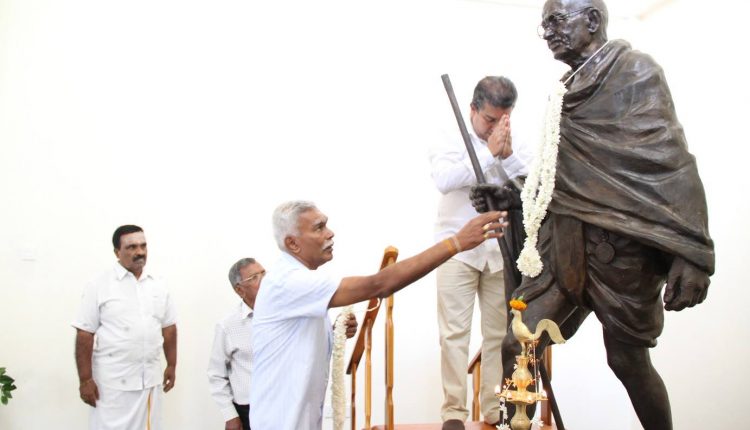 'Dalai Lama in Frames' in Matale
'The Dalai Lama – His Philosophy & Contribution to Global Peace' second event was held in the Mahatma Gandhi Centre, Matale on Sunday the 14th of August 2016 from 9.00 AM to 6.00 PM.
The senior Buddhist monks and the distinguished guests arrived in time  and they were warmly welcomed by the organizers. Traditional oil lamp was lighted and the religious observances were conducted by Most Ven Dr. PallekandeRathanasaraThero and the Sangha NayakeThero of Matale and thereafter Gandhi Geetham was sung. The welcome address was conducted by the Assistant Secretary, Gandhi Sabha Mr. P. Selvaratnam. Dr. DamendaPorage, the President of Sri Lankan Tibetan Buddhist Brotherhood Society.
The two anushasanas were made by the two senior Buddhist monks who were present to witness the event.
Introduction to 'Dalai Lama in Frames' was the next address by Attorney at Law Mr. DumindaVidyarathna who is the Secretary of SLTBBS.
'The Dalai Lama – His Philosophy & Contribution to Global Peace' talk commenced at 2,00 pm and welcome address and the introduction to the theme was presented by the President SLTBBS, Dr. DamendaPorage. Then the audience was addressed by Senior Lecturer of Faculty of Buddhist and Pali Studies of the University of Peradeniya Dr. SumanaRathnayake, Dr. Godwin Kodithuwakku, Former Chairman of National Education Commission, Dr. M. B. Ekanayake, Former Head of the Department of ICT, National Institute of Education, Sri Lanka and the talk was compered by Ms. Shermila Milroy.
The former liaison officer of His Holiness the Dalai Lama, Ms. RadhaVenkataraman also contributed immensely in the talk with her first hand knowledge.
Two film shows were also organized in the auditorium and 'Kundun' and '10 Questions for Dalai Lama' were shown to the participants.