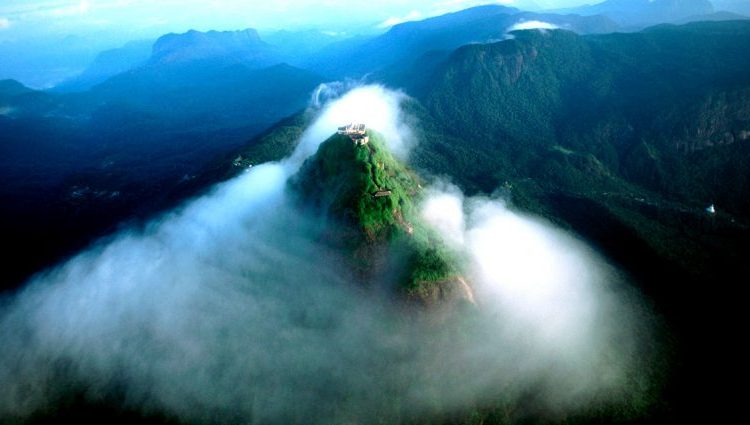 Hozel Rinpoche Climbed Sri Pada in No Time
Hozel Rinpoche climbed the holy mountain Sri Pada to meditate for seven days. Before climbing the holy mountain, he went to Samanala Wewa and did special puja to bless His Holiness the Dalai Lama and Sri Lanka.
SLTBBS volunteers, retired army officer Mr. Jayasooriya and Mr. Pasidu Danushka,  Rinpoche's translator Mr. Tenzin Sherab, were also in the group. Mr. Ajith Perera, the driver of the vehicle also joined Rinpoche to climb this sacred mountain.
Before the climb, which was expected to take two hours by foot, they met the officer-in-charge of the police station Nallathanniya. He offered his fullest support to the Tibetan monk by assigning an officer to assist him throughout his stay on the top of the mountain.
As there are only a couple of rooms available on the top of the mountain, it was a challenge to get a room for the Rinpoche for his one week stay but the society managed to find a room for him.
At the foot of the mountain the group had tea before start climbing. Rinpoche, Jayasooriya, Pasindu, Tenzin and Ajith were there. Suddenly Pasindu noticed Rinpoche was not in the scene. They looked around and Rinpoache was not there. Tenzin said to them Rinpoche might have started to climb the mountain when they were having tea. As there was much to carry to the top of the mountain for pujas, they shared the goods among themselves and started to climb.
On the way they met several people who were climbing down. They inquired them whether they saw a Tibetan monk climbing up.  For their astonishment, no one had seen him.
It took them nearly three hours to reach the top of mountain. To their surprise, they saw Hozel Rinpoche meditating there. They didn't want to disturb him as he was deeply in meditation so they asked a police officer who was on duty about the Rinpoches arrival to the top. He gave them an answer which was hard to believe.  "Rinpoche arrived a couple of hours ago".
Sri Pada mountain is the place where Vajrayana revived.
Dinu Jayasooriya