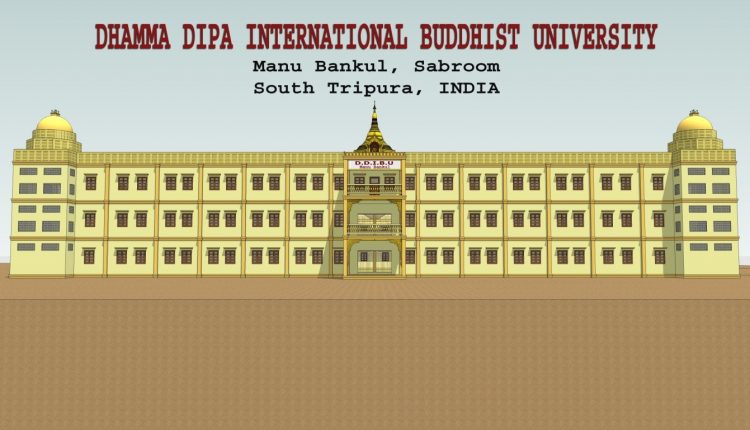 Request For Support To Set Up International Buddhist University In Tripura State Of India
As the members of Buddhist Maha Sangha, we have been working ardently to preserve, promote and propagate Buddha Dhamma through many programmes and activities in India. One important project that we have undertaken is to provide Buddhist Education to school children and young monks and laities in India and abroad.
I am happy to inform you that the Government of Tripura has issued the LOI (Letter of Intent) to set up the International Buddhist University in Tripura state of INDIA and this University will be the first Buddhist University of its kind managed and run by Buddhists. We have already initiated to fulfil the conditions set by the Government of Tripura in LOI and we hope to have the foundation laying ceremony soon.
In order to make this upcoming International Buddhist University a grand success in its endeavour, we need support and cooperation from global Buddhist Community and I would humbly request for your generous contribution and support from your good office so that this University can be the best place for learning and will pave the way efficiently to revive Buddhism in India.
Your kind support and encouragement will be highly appreciated and forever remembered.
May the Triple Gem bless you,
With Metta!
Ven. Dr. Dhammapiya
Founder, International Buddhist University
For more information, please contact:
Ven. Dr. Dhammapiya
Chairman, BahujanaHitaya Education Trust,
Manu Bankul, Sabroom, South Tripura, INDIA
E-mail: [email protected]
Mobile No. +91-9612727388
Website: www.ddibu.in
SRI LANKA:
Dr. Damenda Porage
Chairman, Foundation for Buddhist Brotherhood, Colombo, Sri Lanka
Email: [email protected]
Website: www.buddhistbrotherhood.net
Donate to a Bank Account (For Local Payments)
Bahujana Hitaya Education Trust
A/C No. 32878377062
State Bank of India
IFS Code: SBIN0014616
Manu Bankul Branch, Tripura State
Donate online via PayPal (For International Payments)