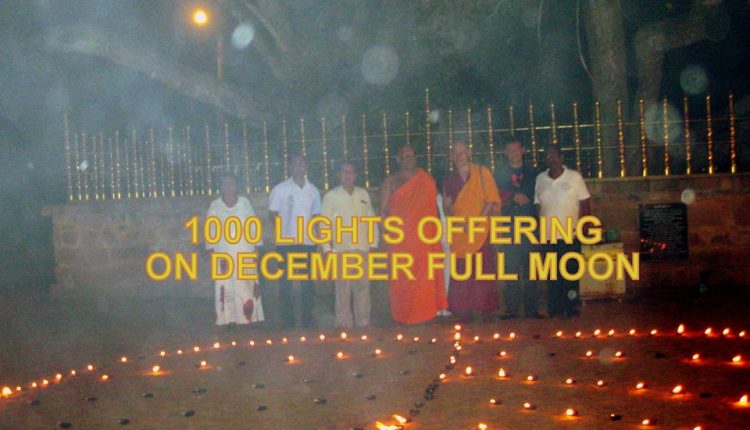 Deities Gathered at One Thousand Light Offering Puuja in Mihinthale
The day of the full moon dawned in December 2015. It was a special day in Mihinthalaya, Anuradhapura. The reason was the thousand light offering puja conducted by to great Buddhist traditions Sri Lankan and Tibetan.
Most Ven. Mihinthale Nayake Thero and Geshe Jangchup Choeden started this auspicious puja when the full moon is rising. Many devotees gathered together to participate in this special puja. Our digital camera captured some strange spots that are believed to be good deities.
This puja was offered by the friends of Singapore coordinated by Ms. Kathrine Sumathi.
Sri Lankan Tibetan Buddhist Brotherhood Society organized this amazing light offering puja.
Mihintale, Anuradhapura, Sri Lanka
Mihintale is a mountain peak near Anuradhapura in Sri Lanka. It is believed by Sri Lankans to be the site of a meeting between the Buddhist monk Mahinda and King Devanampiyatissa which inaugurated the presence of Buddhism in Sri Lanka. It is now a pilgrimage site, and the site of several religious monuments and abandoned structures.
Eight miles east of Anuradhapura, close to the Anuradhapura – Trincomalee Road is situated the "Missaka Pabbata" which is 1,000 feet (300 m) in height and is one of the peaks of a mountainous range.
According to Dipavamsa and Mahavamsa, Thera Mahinda came to Sri Lanka from India on the full moon day of the month of Poson (June) and met King Devanampiyatissa and the people, and preached the doctrine. The traditional spot where this meeting took place is revered by the Buddhists of Sri Lanka. Therefore, in the month of Poson, Buddhists make their pilgrimage to Anuradhapura and Mihintale.
"Mahinda" was the son of Emperor Ashoka of India. King Ashoka embraced Buddhism after he was inspired by a very small monk named "Nigrodha." The King who was in great misery after seeing the loss of life caused by his waging wars to expand his empire, was struck by the peaceful countenance of such a young monk. Meeting this young monk made a turning point in his life and he thereafter, renounced wars. He was determined to spread the message of peace, to neutralize the effects from the damages caused by him through his warfare. As a result, both his son and daughter were ordained as Buddha disciples, and became enlightened as Arahats. In his quest to spread the message of peace instead of war, he sent his son Mahinda, to the island of Lanka, which was also known as "Sinhalé". This island was being ruled by his pen friend King Devanampiyatissa. Thus, "Mahinda" was the exclusive Indian name which in Sinhalé, became commonly known as "Mihindu" in the local vernacular "Sinhala".
In Sinhala Mihin-Thalé literally means the "plateau of Mihindu". This plateau is the flat terrain on top of a hill from where Arahat Mihindu was supposed to have called King Devanampiyatissa, by the King's first name to stop him shooting a deer in flight. Hence, "Mihin Thalé" is a specifically Sinhala term. This is how the place has been called and still is, in the local vernacular "Sinhala". A study of the local vernacular will give ample proof for this.
This is said have been called Cetiyagiri or Sagiri, even though it was more popularly known as Mihintale – the cradle of Buddhism in Sri Lanka
Source: Wikipedia