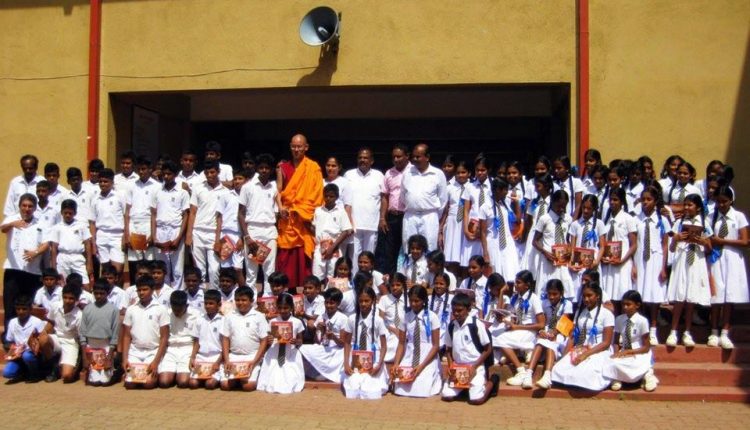 Sri Lankan Tibetan Buddhist Brotherhood Society Donates to build a school Library
It was a great day for the students of Ranajayapura  Maha Vidyalaya. Because they had visitors from India and Singapore. They were so amazed to see a "Rinpoche" for the first time in their life. It was Geshe Jangchoups Choedan.  Students were really excited to see the Tibetan Geshe clad in a much different way. He was  different from the Buddhist monks every day. The Rinpoche was soon surrounded by many children.
The children asked so many questions from the Rimpoche about his life. He told many stories to the children. And the children eagerly listened to him.
Ms. Katherine Sumathi and Mr. Phillip Lee had brought many gifts for the children. The children fondly chatted with them.
The Tibetan Rinpoche conducted a one hour teaching for the staff and the children of Ranajayapura Maha Vidyalaya. His teaching was so inspiring and full of knowledge. Dr. Damenda Porage, the president of Sri Lankan Tibetan Buddhist Brotherhood Society translated this teaching in a very interesting manner. Being an eloquent educator Dr. Damenda knew the best way to address this audience.
The Principal and the staff had arranged tea for the visitors with local delicacies. And during this time the principal of the school happened to remarked that they lack funds to buy new books to the library. Immediately he received a handsome donation from the Sri Lankan Tibetan Buddhist Brotherhood Society.